Motom Shopping Guide
Old Money Aesthetic Dupes: Be Bougie On A Budget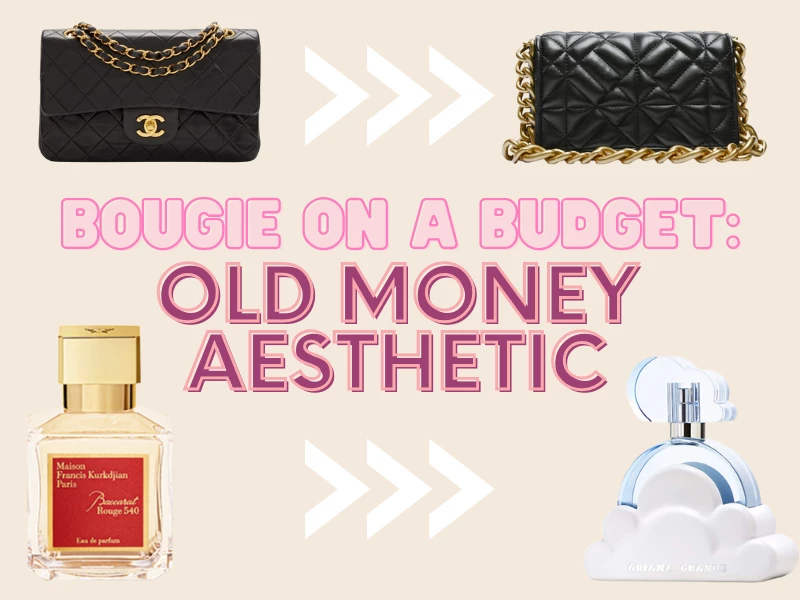 If you're a TikTok fashion connoisseur like us, chances are you've seen "Old Money" outfit inspiration flood your FYP. Here's a quick rundown of what this aesthetic is all about, courtesy of Glamour magazine: "The old money aesthetic, otherwise known as 'quiet luxury,' often consists of preppy, monochromatic, and covertly luxurious clothing. Unlike the new money aesthetic, these clothes are seriously lacking in logos..." Basically, keeping it low-key yet ~classy~ is an easy way to nail the lewk.
Now, as the name suggests, the old money aesthetic can come with a hefty price tag. But who says you can't be bougie on a budget?! If you're looking to test out this aesthetic without spending serious cash, check out the dupes below that will leave your wallet happy:
To start, you should definitely have a fancy, embellished cardigan in your old-money arsenal. Cardigans are a great way to dress up any ordinary look –– drape them over your shoulders for a laid-back vibe, or wear them alone as a statement piece. However you choose to style your cardigan, just make sure it doesn't cost a pretty penny!
DUPE| Lilad - Contrast Trim Cropped Cardigan from YesStyle for $25.60.
Vivienne Westwood pearl necklaces are ~iconic~ and must-haves for the old-money look. What if we told you that you didn't have to spend $300 on one? Check out this faux pearl necklace from Amazon that looks just as fancy -- and it's under $10.00!
DUPE| Round Imitation Pearl Necklace from Amazon for $9.99.
The infamous vintage Burberry checkered skirt is another iconic old money piece that is a necessary staple. A pleated skirt is a perfect combination of preppy and sophisticated. The only downside is that they're kind of difficult to find on second-hand sites. Oh, and did we mention that it's pricey AF? Check below for an identical dupe from YesStyle for more than half the price.
DUPE| Bloomflo - Plaid Pleated Skirt from YesStyle for $26.00.
A nice pair of sunnies can turn your old money look from basic to chic. You could drop over $500 on these fancy Chanel sunglasses, or just check out a dupe from Target for under $20.00.
DUPE| Women's Oval Sunglasses - Wild Fable from Target for $12.00.
Everyone has had the classic Chanel Quilted Flap Bag on their Pinterest wishlist at one point or another, but it seems like it will never be a wish come true because of the steep price. So, we found this Zara dupe that does the job.
DUPE| Quilted Chain Strap Shoulder Bag from Zara for $39.90.
With the Fall season upon us, a chunky black loafer will be a must-have for the old-money look. Step into the season in ~style~ with these ASOS loafers for only $37.00.
DUPE| Monster chunky loafers in black from ASOS for $37.00.
Last but not least, the perfect way to complete your old money look is with a spritz or two of a classy fragrance. The perfect old money fragrance should be subtle, yet distinguishable –– you'll want to turn heads and have everyone asking "What are you wearing?!". While Baccarat Rouge 540 is another old-money favorite, opt for Ariana Grande's Cloud perfume. With notes of crème de coconut, vanilla orchid, and lavender blossom, you'll want to add it to your collection ASAP.
DUPE| Ariana Grande Cloud Eau de Parfum from Ulta for $45.00.